SolutionMethod™ describes a service methodology framework for ITSM that is based on ITIL best practices. The focus of SolutionMethod™ is to enable service, its delivery and management. It is an iterative methodology that has multiple entry points but most typically begins with business end-users/Customer requirements and concludes with a qualification and quantification of services provided to satisfy those requirements both tactically and strategically.
This evolutionary approach enables organizations the ability to adaptively integrate best practices based on their specific maturity level and priorities. SolutionMethod™ employs a phased approach to ITSM that consists of assessment, architecture and design, planning, implementation, and support. With each phase 5 perspectives of people, process, technology, organization, and integration are evaluated.
The high level goal for ITSM structure encompasses the following:
Determine the current, existing IT infrastructure, processes, and services

Develop some desired future state of IT and the services that it needs to provide

Architect a "roadmap" that depicts how to get to the desired state from the current state

Determine the steps needed to execute the "roadmap"
The SolutionMethod™ ITSM framework for each of the ITIL Service Delivery and Service Support areas is a 5 phase model:
Assessment - determine the current state and begin to collect and understand the metrics for the future desired state

Architect and Design - develop a mature design for the future desired state

Planning - develop those plans necessary to achieve the future desired state in a phased evolutionary fashion

Implementation - implement and deploy the plans within IT and across the enterprise to achieve the future desired state

Support - manage, maintain, and improve the future desired state being able to adaptively integrate enhancements as needed or required
Within this framework, SolutionMethod™ effectively enables managing IT as an enterprise wide, service oriented entity comprised of 5 separate and distinct perspectives:
People - quantity and quality of expertise and knowledge

Process - IT and organization specific practices, procedures, guidelines, etc. and the level of complexity and sophistication of them

Technology - total logical and physical technology infrastructure consisting of hardware, software, communication networks, applications, DBMS, etc.

Organization - internal and external business factors that affect IT, how IT and the organization interface, what is the organizations "corporate culture", what are the organization's direction and how does that affect IT

Integration - how is IT integrated within the business model, what services does IT provide, how are the services provided, and how are best practices employed within IT

SolutionMethod™ - A Roadmap to ITSM
Initially, an Organization Strategy and Requirements Assessment is done to determine what are the organization requirements both now and in the future. This initial assessment determines the current, existing IT infrastructure, processes, and services and an understanding of a customer's desired future state of IT and the services that it needs to provide to achieve it across the enterprise.
The Requirements Definition focus areas of Business, Service, Organization, and Technology within the organization and IT infrastructure are used to determine associated requirements and metrics:
Business to determine what are the requirements driven by the organization needs

Service to determine what services need to be provided to satisfy those requirements

Operational to determine what IT infrastructure is needed to support the services

Technology to determine what technology is needed with the IT infrastructure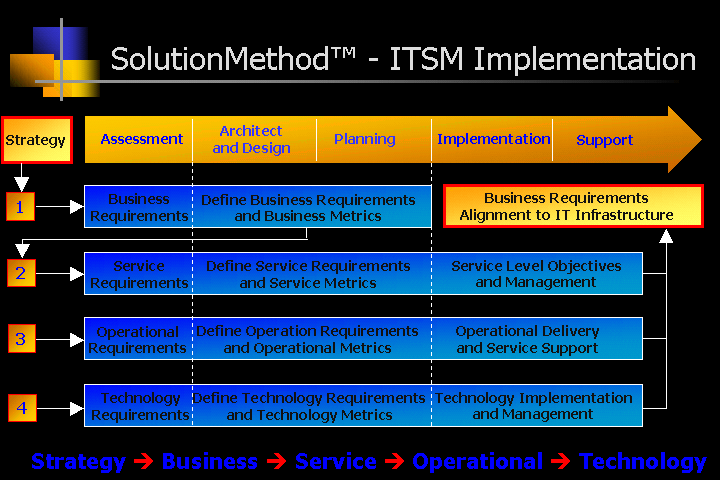 The end result is a true definition of requirements that can effectively link IT services to business requirements that are:
Quantified and qualified

Tactical and strategic

Based on organization and business strategies

Can be measured, tracked, verified, and reported on
Implied is a "top to bottom, left to right" approach however the phased, evolutionary framework inherent in SolutionMethod™ allows for various entry points and anticipates multiple focus areas to be worked on in parallel. The final goal is an alignment of IT infrastructure to business requirements.

The phased implementation of SolutionMethod™ aligns itself to the focus areas and perspectives in the manner shown below.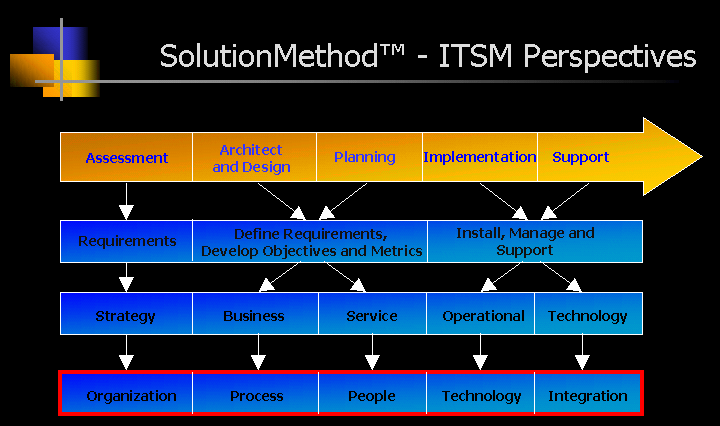 For each of the 5 focus areas (Strategy, Business, Service, Organization, and Technology) there are 5 perspectives (People, Process, Technology, Organization, and Integration) that need to be applied to get a complete and effective definition of requirements, objectives, metrics, and management criteria.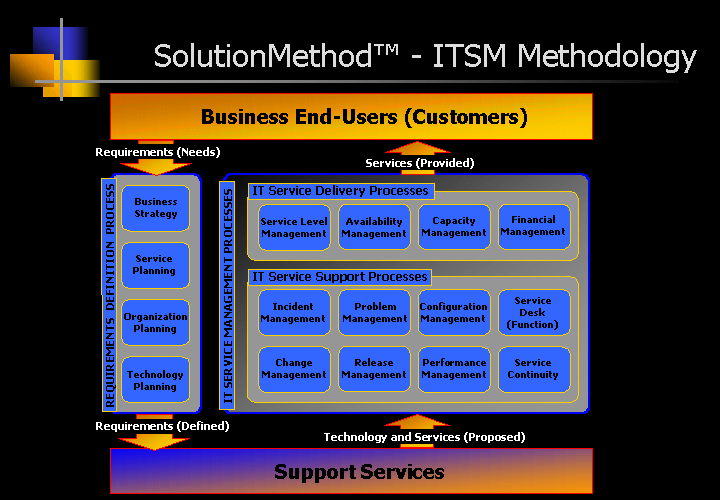 (Click on Any Process Box)
Requirements Definition Process
Once the Requirements Definition is accomplished and Support Services is presented with delivering, managing, and supporting the IT services, ITIL best practices are employed to develop the necessary IT Services Support and Service Delivery processes. Together this provides an enterprise wide ITSM solution based on ITIL best practices that is tailored to the organization's specific and unique business and IT infrastructure requirements.
IT Service Management Processes
Service Support Processes (Click on Any Process to Download the ITIL Self-Assessment Worksheet)
Service Delivery Process (Click on Any Process to Download the ITIL Self-Assessment Worksheet)
An overview of the

SolutionMethod™ approach to ITSM implementation is described in Policy Based IT Service Management:
Download the White Paper - (PDF, 76 KB)

Home | ITIL | ITSM | SolutionMethod | Services | Links | Downloads | Announcements | About Us | Search | Feedback
Email: Info@ITSM.info
NOTE: This website and the information contained herein is maintained by Rick Leopoldi of RL Information Consulting LLC. Some information is considered "public domain" and contained here as a central repository, all other portions of IT Service Management information is proprietary to RL Information Consulting LLC.